Covid 19 Impact on Local Real Estate
Rockford housing market sales see increase in March
April 15, 2020 -ROCKFORD, Ill. (WIFR) ----- "You may not have a lot of buyer activity but for those buyers that are out there looking, they're very serious," said broker Brittany Schultz.
The March housing numbers are in and in spite of the economy's freeze amid COVID-19, the Rockford region saw an increase of 3.3 percent from last year.
Read more HERE.
Home sales plunge nationwide, Rockford home sales not as dire
April 24, 2020- U.S. new home sales plunged 15.4% in March as the coronavirus-related shutdowns that began in the middle of the month began to rattle the housing market.
The Commerce Department reported Thursday that sales of new single-family homes dropped to a seasonally adjusted annual rate of 627,000 last month after sales had fallen 4.6% in February.
Read more HERE.
Rockford-area home sales down, prices up
May 22, 2020 – Home prices in the Rockford area hit a 14-year high last month, though the COVID-19 pandemic has slowed the region's robust housing market, according to the Rockford Area Association of Realtors.
Single family home sales in Winnebago, Boone and Ogle counties were down about 9% during April compared with the same month last year.
Read more HERE.
Rockford Area Realtors see a dip in home sales despite high demand
May 22, 2020 -Housing sales in the Rockford area took a hit due to COVID-19. But the decline is not because the virus is deterring people from buying.
In Winnebago, Boone or Ogle counties, houses draw in buyers like a moth to a flame.
"Buyers are hungry for what's out there. If it's in good condition, good price, it's going to go quickly," said Gambino Realtors Vice President Heather Porter.
Read more HERE.
A Rockford entrepreneur puts a spin on your typical Airbnb
A Rockford entrepreneur puts a spin on your typical Airbnb
June 11, 2020 - A Rockford entrepreneur puts a spin on your typical Airbnb to re-invest in the community.
"Somewhere people can come have a unique experience and enjoy the culture that Rockford brings," said Joshua Beitel, RKFD Properties owner.
After reviewing 35 homes Beitel found the perfect property to start his business.
"The goal with RKFD properties is to buy, rent and sell homes. With this property here I am looking to rehab it and turn it into a local Airbnb," Beitel said.
Read more HERE.
Housing numbers for May hold good and bad news
June 30, 2020- May housing numbers in the Stateline are out–and there's some good and bad news.
Due to the pandemic, only 337 homes sold last month. That is down 33% from the same time last year. However, there is a silver-lining.
Rockford Area Realtors says there is a huge group of people trying to buy a home right now. Since inventory is low, the houses are selling fast.
Read more HERE
Stateline housing sales down 33% in the month of May
Stateline families take advantage of record low mortgage rates and interest rates
July 8, 2020- Right before the 4th, mortgage rates dropped to a new record low for the 5th straight week. One South Beloit couple took advantage of the new record rate for a major upgrade in homes.
Andrew and Kayla Scheffer worked with Quantam Mortgage to move into a home hundreds of thousands of dollars higher than their current home.
Much of this upgrade is driven by how much lower the Scheffer's monthly mortgage payment will be, due to the never lower mortgage rate of 3.35%. It's a big reason why homes are often getting snatched up within the first few hours they're on the market.
Read more HERE
Inventory shortage boosts demand, sale prices for Rockford area homes
July 20, 2020-The number of homes for sale in the region fell to historic lows in June, according to the Rockford Area Association of Realtors.
The inventory of homes on the market declined by nearly 36% in Winnebago, Boone and Ogle counties compared to figures from June 2019.
Read more HERE.
Rockford housing market brings one native back to his roots
July 23, 2020-"It's a beautiful home and a beautiful property and we think we got a lot of value for it," said Marc Strandquist.
Low interest rates and Rockford's affordable housing market are what brought Marc Strandquist back to the Forest City, but living closer to his family is what sealed the deal.
Read more HERE.
Hispanic community increasing homeownership in Rockford
July 26, 2020- For many, chasing 'The American Dream' can mean different things but for some owning their own home is an accomplishment of a major milestone.
"All of my family members are really proud of me for doing this big step in life," explained new homeowner Catherine Villegas.
At 20-years-old, Catherine Villegas made a big step in her life by becoming a homeowner. She comes from a Mexican-American family and credits them for helping her make the leap.
"They always taught me to save up money at a very young age because I started working at 16 and I've been saving ever since," Villegas said.
Read more HERE
Young Professionals Network hosts fundraiser benefiting Family Peace Center
March 11, 2020 - 23 News Anchor Shannon Kelly had the chance to get behind the bar along with Mayor Tom Mcnamara for the Rockford area realtors Young Professionals Network celebrity bartending event. The main attraction was dare-aoke.
Read more HERE.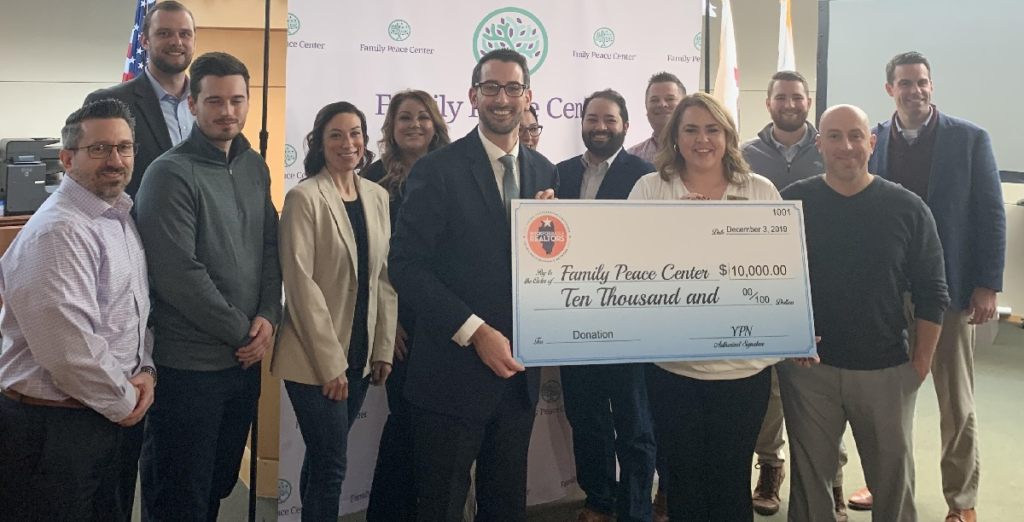 Rockford Area REALTORS® donate $10K to help local Family Peace Center
December 6, 2020 - The Young Professionals Network of the Rockford Area REALTORS® (RAR) showed its support this week for a project designed to help local survivors of domestic violence, sexual assault, child abuse, elder abuse and human trafficking.
Read more HERE.